Osoyoos Councillor Mike Campol presented the Outstanding Individual Volunteer Award to Birgit Arnstein at a recent ceremony that honoured 11 volunteer nominees for the award.
Campol explained, "As one of her nominator's stated, Birgit is a one-person perpetual motion machine."
"Her energy and dedication are unrivaled when it comes to volunteering. In 2015, when the Osoyoos Water Quality Society (OLWQS) was in danger of collapsing, Birgit stepped in and revitalized the group, enlisting new Board members and enabling the organization to thrive."
"I am genuinely shocked to receive this award," explains Arnstein.
"There are so many wonderful volunteers in this community. They are the heart and soul of what makes the Town of Osoyoos so special. I share this award with all those volunteers whom I work with year-round."
Birgit Arnstein has served as President and Past-President of the OLWQS, spearheading events and fundraisers to raise awareness and promote public education of the need to protect and preserve Osoyoos Lake.
She also initiated the Osoyoos Lake Appreciation Day in May 2016, with speakers, education packages and entertainment. She arranged for a public awareness campaign with the Osoyoos Times and was a key member of the committee who designed the pole banners and Main Street banners promoting the protection of Osoyoos Lake.
As well, she is a crew member on the Society's pontoon boat used to monitor water quality on Osoyoos Lake. Most recently, Birgit co-ordinated the launch of a Facebook Page for the Society and helped to organize a complete upgrading of the society's website. In addition to her duties with OLWQS, Birgit is a volunteer with the Osoyoos Festival Society and the Osoyoos Desert Society. She is also a volunteer at the Osoyoos Elementary School's One to One reading program and a member of the Strata Council at her residence in Osoyoos.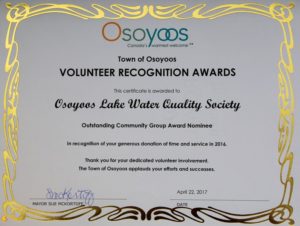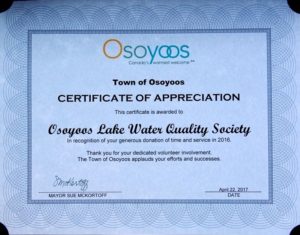 The Osoyoos Lake Water Quality Society also received an Outstanding Community Group Award nomination and a Certificate of Appreciation from the Town of Osoyoos. 
Arnstein also encouraged people to attend the upcoming OLWQS Annual General Meeting on Thursday, May 25, 2017 at the Sonora Centre in Osoyoos 6:30 PM – 8:30 PM. The Society is looking for new board members to replace those that are stepping down.